News
Alliance RT44 Differential Rebuild Kits
12/06/2010
The DT Components product line now includes Differential rebuild kits for the front and rear axles of the Alliance RT44 tandem axle. These rebuild kits contain all of the premium bearings and seals necessary to complete the rebuild. Click on the product announcement below for additonal product information.
Please contact your sales representative or login to the customer area for distributor pricing information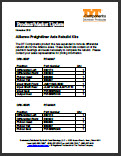 HDAW 2011 Conference
12/06/2010
North Coast Beaings will be exhibiting and attending the HDAW Conference at the Mirage Hotel in Las Vegas January 17th through January 20th, 2011. Please stop by our display in booth #300 to learn more about the many new products that we have recently released to the market.
Suzuki Samurai Differential Rebuild Kit
08/06/2010
The DT Components product line has expanded to include a Standard and Master Rebuild Kit for 1988-1995 Suzuki Samurais. These kits service both the front and rear differentials. The DRK-360 Standard Kit contains all of the bearings, pinion seal, pinion nut and crush sleeve that are necessary to complete a rebuild. The DRK-360MK Master Kit contains everything that is in the DRK-360 Standard Kit along with the pinion shims and ring gear bolts.